SuperAbs
$19.99
Your abdominal muscles are tight and defined in no time by following this video and eating program. Nothing you have ever done is as successful as this. Feel amazing and watch the tummy fat just pour off in only three minutes a day.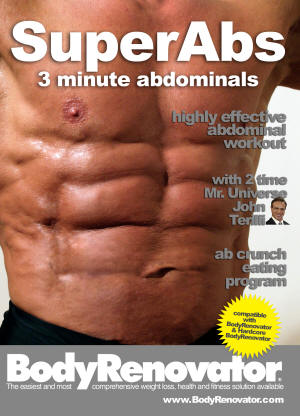 Eat the fat away with the Ab Crunch Eating program. You have never experienced eating like this before. Your health and well being improve immediately and your new abs are easily maintained with the BodyRenovator program.
You are safe in the hands of John Terilli two time Mr. Universe winner and the developer of the BodyRenovator systems. There is no stressing about how it all works, you simply follow these easy tried and tested steps to get the abs you always dream about. Forget all the misinformation and exercising myths out there. Everything is in here.
SuperAbs Workout