The Ups and Downs of Weight Loss
$19.99
The forth month of BodyRenovator, John Terilli discusses blood sugar levels, and gives us healthy Low GI eating program. John has also devised a simple and effective exercise routine you can perform in the gym for those of us with a gym membership!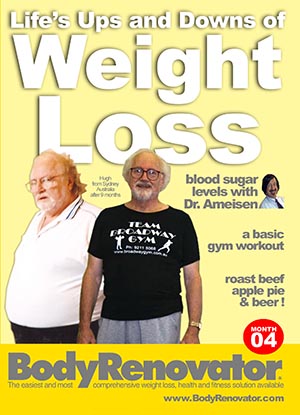 John talks to Dr. Paul Amesian, a doctor who practices both orthodox and natural medicine. He will discuss what effects blood sugar levels have in our lives and how to stabilise them.
The exercise section features a workout using gym equipment. This is an extremely effective routine which will help to tone your body and will give you that younger, tighter look. It is very efficient, simple and practical and can be performed in most gyms in less than 30 minutes! Perfect for anyone, young and old, who wants to get fit. This exercise program has been scientifically formulated through years of research and experimentation to easily work and tone your entire body with the maximum gain using the most efficient targeted movements.
This month features the Low GI Eating Program, which caters to people of different weight categories. It is a structured, easy to follow, cost effective, delicious, quick and simple to prepare, 4 day recurring meal plan. This eating program, presented by Alicia McDonald, will help your body adapt to changes you will have achieved from the previous month, or get you into a position to accelerate fat loss in the months ahead. We are given specific reasons why we are eating certain foods contained in the program and also details the nutritional content of each meal. This eating program will help to maintain all your results so remember that the important benefit of BodyRenovator is the ongoing maintenance plan built into the system.
John also provides information on a new supplement and how it can help in achieving our desired goals.
BodyRenovator reveals all the secrets and tips that people in the know use to:
slim down,
tone up,
improve strength,
extend endurance,
live longer,
exercise efficiently,
maintain healthy nutrition,
and promote happiness and good health.
BodyRenovator will completely change the way you perceive food and exercise and give you a clear view of how to achieve what you have always wanted. How brilliant is that!