Jump Starting Fat Loss
$19.99
In this first month John Terilli discusses body fat measurement, he also introduces us to a non-allergenic way of eating and the unique couch potato work out, which can be performed at home in the chair you will probably sit in to watch the video!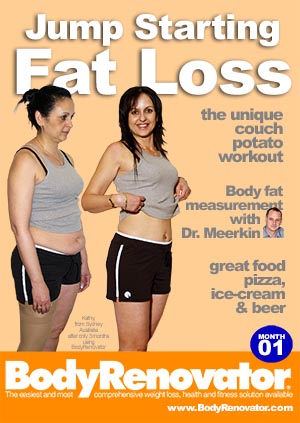 To better promote understanding, John visits Dr. Jarrod Meerkin, from Body Composition Australia, to see how we can accurately measure body fat on our bodies. We will also discover what central abdominal fat means to our overall health.
For everyone who has ever wanted an easy workout, John has devised a unique "couch potato workout" for us to follow. It will aid everyone in getting moving and starting to get fit. It is easy and simple and can be performed in your own lounge chair without getting up! Perfect for anyone, young and old, who wants to get fit without having to go to a gym. This exercise program has been scientifically formulated through years of research and experimentation to easily stimulate and tone your entire body with the minimum of fuss and in the shortest period of time.
For the first installment of BodyRenovator, John introduces us to a Non-Allergenic Eating Program, which caters to people of different weight categories. It is a structured, easy to follow, inexpensive, delicious and simple to prepare, 4 day recurring meal plan. This eating program will help flush your body of any food allergens. We are given specific reasons why we are eating certain foods contained in the program and also details the nutritional content of each meal. This eating program, presented by Alicia McDonald, is essential for anyone wanting to start a fat loss program. It has clear benefits and helps create a situation where you will not put the weight back on. Future months will help to maintain all your results so remember that the important benefit of BodyRenovator is the ongoing maintenance plan built into the system.
We will also be introduced to supplementation and the significant role this can play in achieving our desired goals.
BodyRenovator reveals all the secrets and tips that people in the know use to:
reduce body fat,
increase strength,
increase endurance,
extend longevity
and promote happiness and well being.
BodyRenovator will dispel all the myths and misconceptions people have about eating and exercising and leave you with a clear view of how to achieve what you have always wanted. How easy is that!